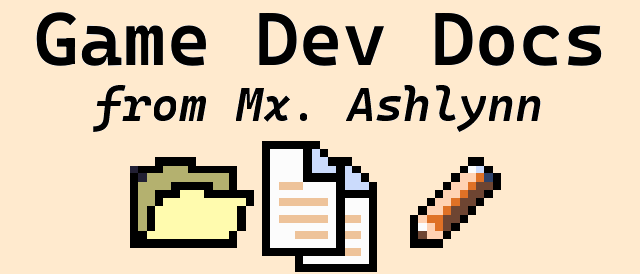 Game Dev Docs
A downloadable template collection
These are templates I use when working on my own games. I figured they might be useful for others, too!

They come in a variety of formats with notes on how to use them.

Contents 📃
Game Preproduction Document Template
This is a living archive and I'll add more to it as I need additional game dev documents~~
Format 🗃️
The storyboard template is given in Microsoft Power Point `.pptx`, Scalable Vector Graphic `.svg`, and Portable Network Graphic `.png` formats. PNGs can be viewed with any modern web browser.
The preproduction document template is given in Microsoft Word `.docx`, Rich Text Format `.rtf`, and Markdown `.md` formats. Markdown files can be read with any text editor.
Credit ⚒️
Everything in this collection was created by Paige Ashlynn in 2021 for her own use and in the hopes that it would be helpful to others.
Rights ⚖️
This work is licensed under a Creative Commons Attribution-ShareAlike 4.0 International License.
Download
Click download now to get access to the following files: