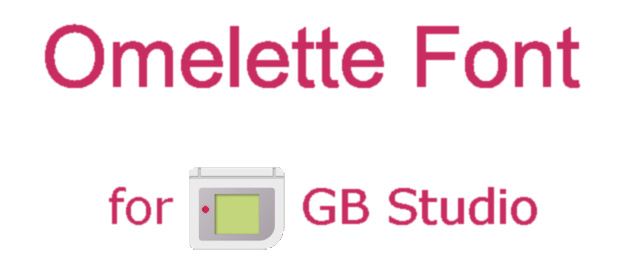 GB Studio Omelette Font
Omelette Font for GB Studio 💬
This is Andrew G. Crowell's Omelette font in two weights and adapted for use with GB Studio. The original Omelette fonts are available on GitHub.
Contents 📂
Omelette_8x8 combines the following~~

an adaptation of Omelette Thin Plain;
an adaptation of Omelette Thick Plain;
elements of Omelette Buttons that are relevant to GB Studio titles;
a few additional glyphs by Paige Ashlynn rendered in the Omelette style.
How To Use 👩‍🔬
NOTE: This is a GB Studio 2 fixed-width font. It has not been tested with GB Studio 3.
Download this repository.
Copy the font file from the assets/ui folder in this repository to the same folder in your GB Studio project.
Rename the file to ascii.png, replacing any existing file with that name.
That's it! GB Studio will now use Omelette_8x8 font.
For more information please see the GB Studio user interface documentation.
Rights 🏳️‍🌈
This font asset is licensed under a Creative Commons Attribution 4.0 International License (CC BY 4.0). You can use this font in your own projects or modify it to create your own versions as long as you credit the original creator and the adapter.
See Also 👀
Also check out my Font Pack for GB Studio containing more free fonts!

Download
Click download now to get access to the following files:
Omelette Font for GB Studio
8 kB