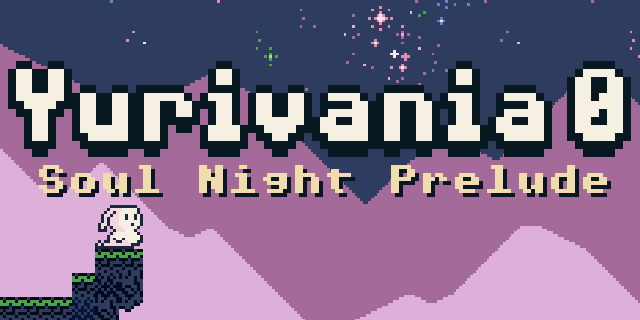 Yurivania 0: Soul Night Prelude
🦴🐍
Monstergirls work together to help out some lost ghosts~! 👭👻

The Midnight Palace is hosting a major ritual to assist spirits navigating the realms beyond mortality. Tibby the skeleton is planning on attending and really wants her friend Stheno to come along. To get there on time, they will have to work together to overcome some unexpected obstacles, maybe making a new friend along the way!
Gather as much spirit energy as you can find, and maybe Stheno will build up the courage to as a very important question! 💞

This is my entry to Trans Game Dev Birthday Jam, a side-story and prequel to Yurivania. The two games can be played in any order.

🛑
Content Warning


This game contains cartoonish depictions of skulls, bones, skeletons, demons, ghosts, and a wide variety of monstergirls.
Playing the game involves navigating a cartoonish 2D depiction of high mountain cliffs and unsafe stairways.
The story includes references to romance and kissing.

🎮
Controls

D-Pad / Arrow Keys = Walk, Climb, and Drop from certain platforms.
A Button / ALT = Jump, Interact, and Confirm Selection.
B Button / CTRL = Cancel Selection or hold to Run.
SELECT / Shift = Open Menu.
START / Enter = Party Chat.
⚗️🍧
If you'd like, you can check out the source for this project on GitHub~~ 💻

⚠️ Known Issues ⚠️
Stair climbing is a little buggy.
Please report any other issues you find!
Install instructions
Download the ROM file.
Play it in an emulator such as BGB or flash it to a cart.
Comments
Log in with itch.io to leave a comment.
Love it love it, though finding Stella actually took me a good 10 minutes. ♀♥♀♥ indeed!
Aw, nice!! I really enjoyed Uhaul of the Night so was super stoked to play this (on Halloween, no less!). Short, sweet, and cute. Hope to see more from the series in the future!

Yay, I'm so glad to hear that! Thanks a bunch for playing. There will definitely be more! 🧛‍♀️
This was very charming! i'm (not) very smart and managed to not realize that there's a run button until accidentally pressing it on my about 20th try on getting that last spirit energy, lol. in hindsight, fairly obvious though, and impressed that i never thought to press it earlier

got all(?) 12 (at least thats what the end-screen reported the number as) energies. yelled "that's video games!" to myself when i found the spirit on the first screen. great stuff, video games forever


I'm glad you enjoyed it!
The collecting spirit energy is very video gamey 😂
I should probably mention the run button more prominently. Thanks for the feedback!
i mean it in the best way possible, haha. i think more video games should also be "video games!" :P
(also imo you don't need to mention it, it's only necessary for that one energy anyway? And its fairly easy to work out on accident or by going "yknow if i hold A and move i feel like something usually happens", but its your game obvi! i'm just a weirdo on the internet xP)

Super cute game and story (Omg plant lady). Also, big fan of the stargazing ghost. Got 9 spirits, yay!!
Super cute! :D I got 6 of the spirit energies, dunno how many there were total, though.
Yay, great job! There are 11 altogether. I have to come up with a good way to report that.
Loved the game, I have a few things to note regarding graphical weirdness.
It is possible for the expression bubbles to become placed in the wrong location if you start the interaction with plant lady and move.
It is possible for the expression bubble from the highest ghost to become frozen on the screen after interacting.
If you fall out of the ghost finding area, any ghosts you have found will respawn, this however seems to only re-trigger their dialogue if approached and not cause any issues with counting.
Hopefully this helps in any further patching. :)
Thank you for reporting these! I'll fix them ASAP!
All of these should be fixed now. Thanks again!